E&E function test is important to assure vehicle's quality. As well known, system engineering is an approach to develop a vehicle. There are many different test phases at every defined stage, with different test focuses. Based on the requirement specs of customers and industry standards, our experiences and know-how, Polelink can provide customized test services at all the phases: specifications development, test scripts implementation, test execution and issue tracking in the field of ECU function test at different levels:
Function Test at Component Level:Provide test services to validate the logical and timing features of interaction and distribution sub-system functions.
Function Test at System Level:Provide test services to validate the logical and timing features by test function of the sub-system interaction and distribution.
Function Test at Vehicle Level:Provide test services in user's perspective and Free Test.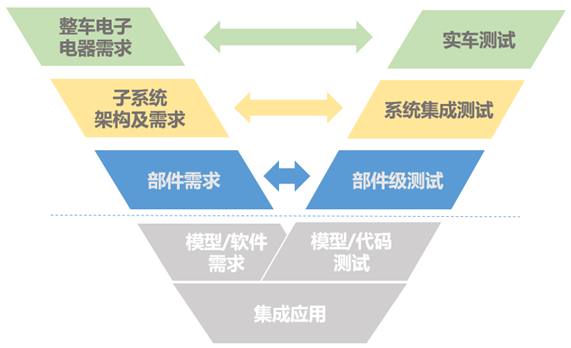 Function test at vehicle level is the final quality assurance before vehicle SOP, so it is very key and mandatory executed in worldwide leading OEMs, known as VIT (Vehicle Intensive Test). It is still at very early stage in China for OEMs to do VIT. The challenges are how to define the test target, how to execute the tests, how to manage the issues generated in VIT(Vehicle intensive test ), etc.
Based on our know-how gained from experiences in VIT for leading Chinese OEMs, Polelink can provide complete and professional VIT solution, by usage of relative tools from Vector Informatik ( GL data loggers & CANoe) and Issue Tracker management platform developed by Polelink.
The focus of traditional vehicle test is to validate the performance of power, economy, braking, maneuver, stability & durability etc. VIT is focused on testing in a user's usage and vehicle system perspective. 'Do the thing right'- Verification for E&E function logical and system interaction, and 'Do the right thing'- Validation for vehicle behavior, to continuously improve the vehicle function and quality and provide better vehicle requirement specifications.

Test services for traditional power vehicles, including:
Body Domain

Comfort Domain

Infotainment Domain



Test Method
Test processes shown below, including test preparation, strategy analysis, specification development, execution, result analysis & issue tracking.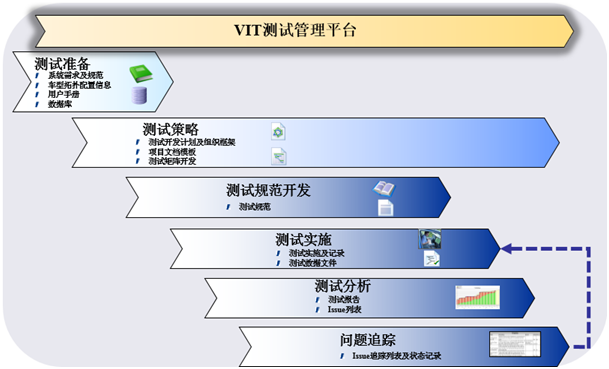 Main works of Test Preparation Phase:
○ User Manual
○ Vehicle variants and features list......
Main works of Test Strategy Analysis Phase:
Based on user manual, system requirements and our Know-how, develop test matrix in perspective of system, function and features, define the test cases to cover all the key items.

Make test plan according to vehicle SOP plan and function increasing plan.
Main works of Test Specification development Phase:
Based on defined test points by test matrix and safety, maturity, usage frequency, laws and regulations, define test environment (Dynamic/Static), test development method and test steps
Main works of Test Execution Phase:
Test environment configuration, such as configuration & installation of data logger, voice and video recorders in the vehicle

Test execution and data collection & compilation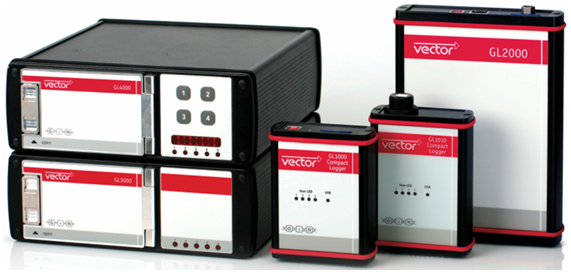 Main works of Test Analysis Phase:
Use trace function of CANoe to analyze and locate root cause according to issue phenomenon and collected data, to communicate with OEM and its ECU suppliers

Record data and test steps about how to detect the issues in the issue tracking management system
Issue Tracking, Tracking all the process and status of the issue via Polelink's own software--Issue Tracker.Main functions of Issue Tracker:
Issue Management
○ Issue report
○ Issue status tracking
○ Issue solving plan determination
○ Issue statistics
Test Specifications Management
○ Test specifications description and record
○ Test items efficiency summary
○ Test specifications export in Excel format
E-mail Notices
○ E-mail notices automatically sent out to assigned responsible person of OEMs and relative ECU suppliers, for creating new issues, any description and status updates of the existing issues
○ All the email reply directly to the email notice, which content will be extracted as 'Comment' into the corresponding issue and stored in server
Report generation, export test report automatically in standard formats like Excel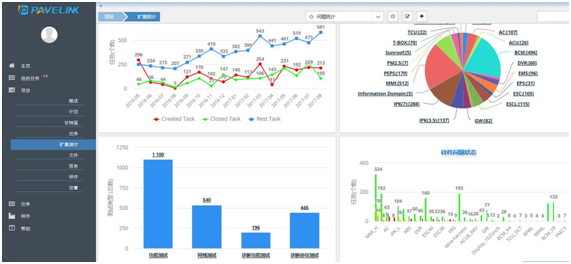 Figure: Issue Tracker by Polelink for issue tracking and management